Rose Hips, Hops and Hibiscus Mead
Holding the glass up and enjoying the hue of this mead is nearly as as mesmerising as tasting it.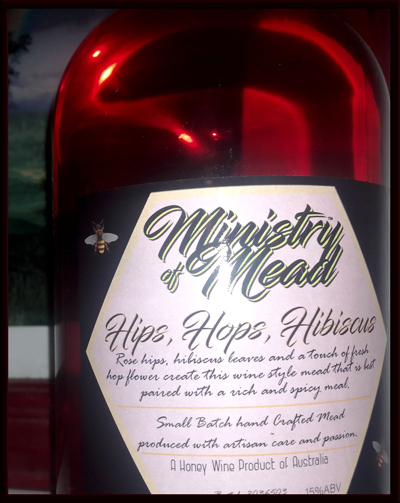 Rose hips are an amazing ingredient to work with, they are a fruit that is well suited to fermenting and if treated with regard throughout the process can yield a wine flavour that will proudly push many grape based wines to the back of the table. They are rich and fruity.
The hops add just a touch of bitterness to the mix as does the Hibiscus, both of these ingredients also bring some complexity of aromas and flavours along to the party.
The hibiscus brings a floral earthiness, as well as a bit of floral spice, so does the hops, though it also carries some light fruit flavours into the scene with it. 
This is a complex Mead, it is truly approachable but deserves to be more than just a casual drink. This is a Mead worthy of inspection, discovery and discussion.
It has a nice balance of tannins and fruit with layers and layers of flavours, all supported on a honey foundation. It will pair well with dishes rich in flavour. 
Our redesigned label will be out soon.